Travel Tips
10 Best Things To Do In Myanmar To Explore The Beauty Of This Land Of Gold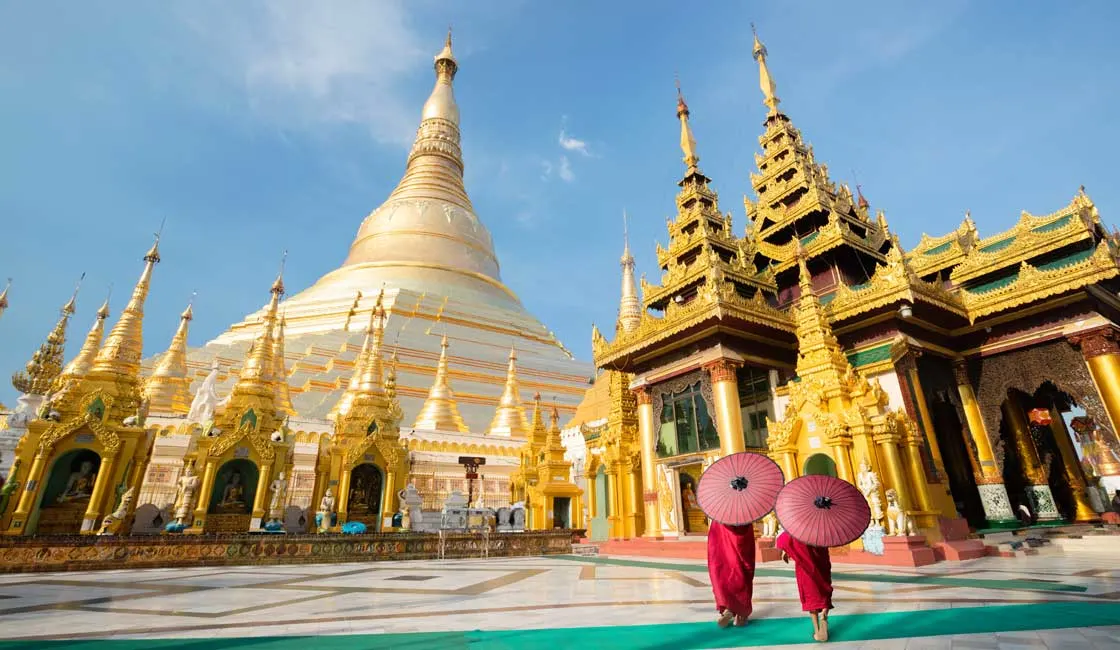 Myanmar is an incredible Southeast Asian country. Many people also know this country as Burma. I must say that this place is worth visiting for those who wish to have a good time while learning about diverse cultures. Myanmar's historic customs and gorgeous landscapes are among its best features. The best part is that the country hosts several fascinating festivals. The famous one is "Thingyan". At this festival, you can splash water and celebrate with friendly locals. The country has beautiful lakes and rivers, which are perfect for boating and enjoying on a cruise.
Image Source: google.com
But do you what make Myanmar special? It is the friendly people that make this place so special. They are known for their warm hospitality. You'll feel like a special guest wherever you go. It is a great place for adventure, culture, and meeting sweet people.
Let's learn about the 10 best things to do in Myanmar to explore the beauty of this land of gold.
1. Breakfast Bliss
In Myanmar, teahouses are very popular. You can find these teahouses in the busy streets of Yangon and the lanes of villages. At these teahouses, tea servers rush around, filling cups and serving tasty snacks. Also, I would like to give information about their tasty sticky rice. This is a common breakfast choice for people there. They love to have it. And it goes well with steamed peas and fries. The different kinds of sticky rice include- Black Coconut and yellow sticky rice. Glutinous rice is easy to get and doesn't cost much.
The famous breakfast places in Yangon, Myanmar are-
The Market
O'Thentic Brasserie
Babett Eatery & Bar
Café Sule
Nourish Cafe
Lucky 7
Rangoon Tea House
2. River Adventure
Now, let's come to another adventure you can experience, i.e., river adventure. Myanmar has lots of exciting adventures near its rivers and lakes. The Irrawaddy River is like a long highway in Myanmar, starting from the mountains and flowing to the sea. Along the way, you'll see people living by the river. Also, you might spot the rare Irrawaddy dolphins. You may like to take a boat tour of Inle Lake or go on treks, like a long walk from Inle Lake to Kalaw.
Trending Post:10 Best Places to Visit in Europe 2024
You can use a small boat to paddle along the coast and explore secret beaches. If you like diving, you can see amazing underwater stuff in the Myeik Archipelago.
3. British colonial
In Myanmar, some places still have a British influence from the time when the British ruled. In Yangon, there are old British buildings and a place called "The Strand" where you can have afternoon tea. There are also places related to the writer George Orwell and his book "Burmese Days."
But the place where you can feel the British influence is Pyin Oo Lwin. When you visit Pyin Oo Lwin, you'll see old-fashioned horse-drawn carriages and big houses made of teakwood.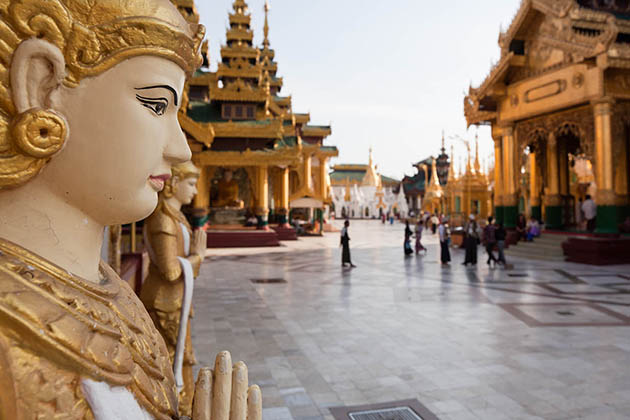 Image Source: google.com
4. Culinary Delights
In Myanmar, people enjoy a variety of flavors like sour, spicy, bitter, and salty. But what's interesting is that they don't mix all these flavors in one dish. Instead, they have different dishes that focus on each of these tastes.
They also enjoy eating tea in a dish called "lappet thouq". Another one is called "jaggery," which is made from palm sap. You can have it plain or with coconut and sesame seeds. Some people may also like to try toddy, which is made from the sap of palm trees. It can be a little alcoholic, but it is one of the interesting drinks to have in Myanmar.
5. Unique side of Buddhism
Myanmar's Buddhism is fairly distinct, with some features that set it apart. The Golden Rock is a gigantic rock covered in gold leaf that looks like it defies gravity as it rests on the edge of a cliff. It is one of the most recognizable spots to visit and also the most sacred locations in Myanmar.
Another fascinating place is Mawlamyine's massive concrete Buddha statue. The statue is very famous around the world, and many people travel to Myanmar to see that only. What makes it unusual is that you can climb inside the statue and explore it. The famous temple to visit there includes- Shwedagon Pagoda, Shwedagon Pagoda, Bagan, Ananda Temple, and Yangon.
6. Amazing Train Journey
Traveling by train in Myanmar can be fun and comfortable. It is one of the best ways to connect with the local people and immerse yourself in the culture. The trains in Myanmar are old so be prepared for not so smooth ride.
Despite this thing, train journeys offer a unique opportunity to interact with the locals. One of the fascinating sights is the graceful ladies who walk through the train selling snacks, with trays balanced on their heads.
7. Traditional Nat Ceremony
Let's now study about their Nat ceremony in short. This is a belief system about spirits called "nat." People believe that by offering them whisky, music, and money, they can keep them happy. It's different from Buddhism. The main religion in Myanmar is Buddhism, but many Burmese people believe in both.
During this ceremony, a middle-aged lady dances to traditional music while natkadaws give her whisky. People even put money into her clothing to make the Nats happy. The biggest nat ceremony takes place in Taungbyone and Mount Popa. These two are the most important places for nat worship in Myanmar.
8. Thanaka Beauty
Now it is time for some skincare. You must be thinking about skincare and adventure- how are these two things related? So let me tell you women and children in Myanmar put a special yellow cream on their cheeks every morning. This cream is known as Thanaka, and it's made from the bark of a wood apple tree. This cream helps them to protect their skin from the sun, but it also smells good, like sandalwood.
Some people use it for its beauty benefits. Plus, it keeps you smelling great all day! You should try it once at least, so you can check whether it is effective or not.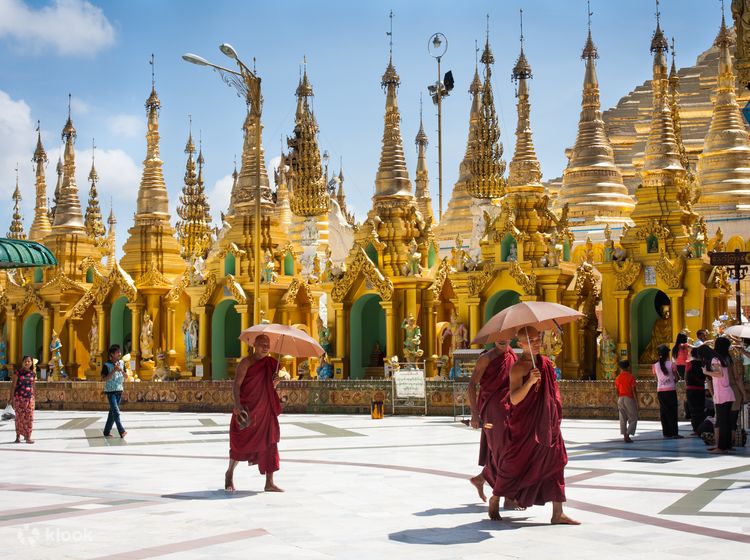 Image Source: google.com
9. Traditional Attire
In Myanmar, people wear a special type of clothing called a longyi. It's like a tube of fabric, and both men and women wear it. The men's longyi is often checked or striped and the women's longyi is called an htamein. It has beautiful patterns and is tucked into a fold around the waist. You can also try wearing this traditional Attire, as it can be a fun activity. To get your longyi, you can choose your favorite design.
10. Trekking
Trekking can be a great experience for you due to the beautiful hills of Myanmar. There are some famous places where you can go trekking, like the route from Kalaw to Inle Lake in Shan State, or Hsipaw and Kyaukme in the north. You know what's cool about trekking there? The answer is- overnight stay in villages along the way. You will get to experience what it's like to live in a rural village.
Now you guys know what amazing adventures you can experience during your trip to Myanmar. You can try all kinds of yummy food and learn about their unique beliefs. The country is full of beautiful places and interesting traditions. Myanmar is a place where every moment is full of exciting things to discover.
Best Time to Visit in Myanmar 2024
The most famous season to visit Myanmar is among November and February, when the weather conditions is generally warm and dry. Be that as it may, many experienced explorers consider the 'shoulder-season', either side of this pinnacle period, as the best opportunity to visit Myanmar.
Suggested Post: Things To Do Best Places to Visit in July USA 2023
The weather conditions is still commonly generally excellent and the groups are undeniably more negligible. Myanmar has two unmistakable seasons - dry (October - May) and wet (May/June - October). The drier months paving the way to the wet season (Walk and April) and the early wet season (May and June) are generally the most sweltering of the year when temperatures can arrive at cosmic highs.
The driest locales of the nation are the fields encompassing Bagan and Mandalay, which remain somewhat dry (beside the odd weighty storm) the entire way through to August. As you would expect, temperatures all through the nation are incredibly impacted by height, and subsequently the slope stations, lakes and Himalayan lower regions are far cooler than the southern swamp and waterfront locales.
(By Simran Singh)